West Orange Mountain High School
Class of 1964
OurClassicVehicles
► If you have a vintage vehicle not shown here, please send the info to me at womhs64@yahoo.com and I'll add it to this collection. Thanks, in advance, Myles
---
Original posts, summer 2015
People like vintage vehicles. There are many classic car associations, countless shows in cities around the country and the world, and many hours of TV programming devoted to showcasing vintage vehicles. When we learned that at least 3 of our classmates have one or more vintage cars, we thought you might like to see those cars and read a story about each of the vehicles.
---
Alan Hammer's 1962 Vette
I acquired my 1962 Corvette approximately five years ago. It was what they call a "frame off" restoration. The car looks like a new car although it has the important original elements and the numbers are "matching" which means that the engine, transmission and other major parts are original to the car. The car is equipped with a 327 cubic inch, 340 horsepower engine and a four speed transmission.
After I purchased the car it took several years until everything really worked well and the car drives beautifully for a 53 year old vehicle.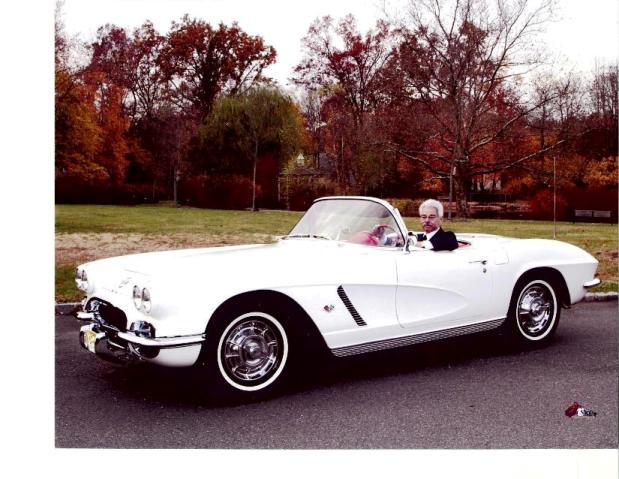 ---
Irwin Hammer's 1973 Lincoln Continental
At more than 20 feet in length and over 6000 lbs. in weight, this land yaht puts all the SUVs of today to shame. Sits 4 across comfortably. The online specs page notes the 459.8 cubic inch engine in this beauty gets around 12 mpg.
---
Howard Linker's 1951 Bentley, Mark VI
The Mark VI was the first car ever produced by Rolls Royce that used all-steel coach work. This model comes with left-hand manual drive. The car was originally presented to me at an estate sale in New Jersey and took almost a year to restore. It is all original and flawless, its colors are sand over sable. I resisted driving it for fear of damaging it and had it shipped to Florida where it's maintained by its restorer, a close, personal friend. I bought it for its classic beauty and eloquence with an eye toward its appreciation in value.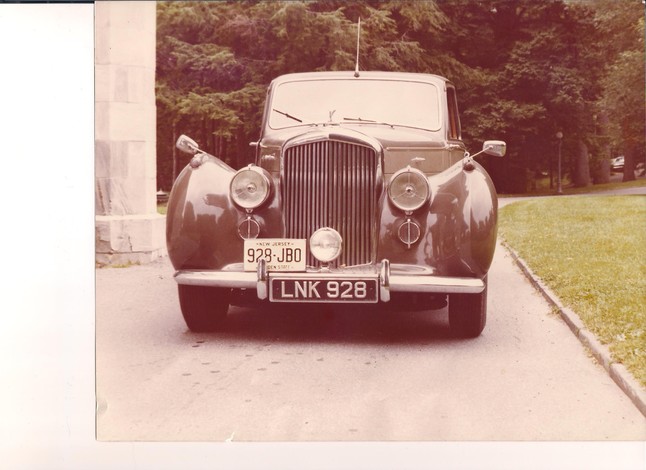 ---
Irwin Hammer's 1961 Vette
Of the 10939, 1961 Corvettes built, this is number 4056.
It had a 283 fuel-injected engine originally. It now has a 327ci/365hp engine with a 4:11 rear end. I purchased it in 1977, it was turquoise with white racing stripes. Over the years I replaced the interior and had it painted. This car was a drag racing car during its life time although I have had it for 38 years and am the 20th owner.
Lorraine and I take it out once or twice a week during good weather to the local cruise nights at Galloping Hill and Blackthorns in Union. On Labor Day weekend we show the car at Lead East at the Parsippany Hilton.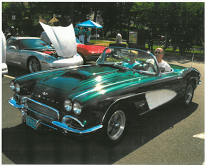 ---
Dawn Lomelo (Summer's) 1941 DeSoto
"It's now or never," my husband and I said to each other after the terrorist attacks of 9/11. Frank had been working in NYC; his corporate office was the 3rd tallest building in the skyline. He'd been to a business meeting in the WTC the week before. We knew it was time to end the debate and make the investment.
We'd always liked the cars of the 30s and 40s, the 40s even more so, and we found a beautiful 1941 DeSoto. The car that sponsored Groucho's TV show was known as the "Poor Man's Cadillac." Roomy and comfortable, DeSotos were the Yellow Cab-of-choice in the City. We've enjoyed owning the car, had fun driving it, and have entered it in vintage car shows where it's taken some trophies.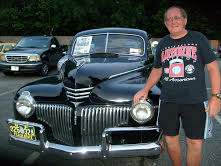 .
---
Alan Hammer's 1970 XKE
I originally acquired the 1970 Jaguar XKE fully restored from the person doing the restoration. When I first came upon the car it was referred to me by a client and friend who was about to purchase it himself but changed his mind. It was in parts and basically all I was able to see was the rear body which was beautifully painted. Having perhaps misplaced confidence in the restorer I bought the car and gave him a substantial deposit. Over the next several months he made little progress in completing the restoration which he told me he had been working on for 10 years. Finally he offered to give me back my money and I made a big mistake of asking how much of a discount he would give me if I took the car in its existing condition. My mechanic/restorer said the discount was reasonable and we took possession of numerous cardboard boxes, body parts, seats and eventually even the front of the car. It took a year to finish and three times the estimated amount but it is a beautiful restoration of a beautiful iconic automobile. The car is equipped with a six cylinder engine and four speed transmission and it is perhaps the most fun to drive of my various cars. The restoration was beautifully done and the car is almost entirely authentic except I chose not to put a portion of the bumper across the front since I prefer the look of the car with an open nose.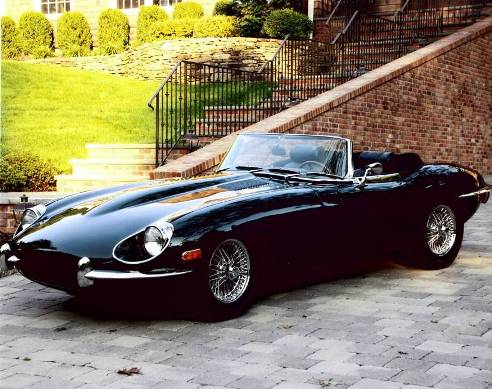 ---