West Orange Mountain High School
Class of 1964
In Memory
Richard Ehrenkranz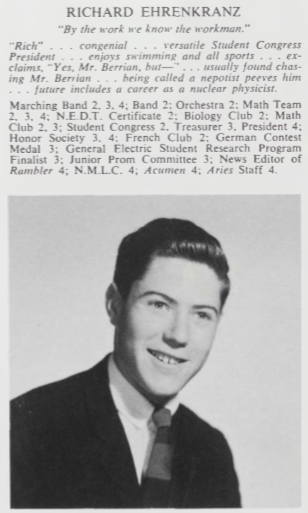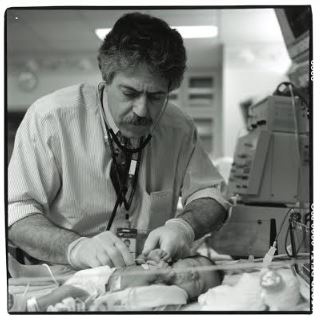 Richard Ehrenkranz (July 28, 1946 - August 8, 2018)
Richard Ehrenkranz passed away peacefully this morning at the hospice with, Jeff, Peter and his wife Susan at his side.
There will be a memorial service for him on Sunday Aug 19 in New Haven.
Richard was diagnosed with colon cancer more than 8 years ago and has been inspirational in his fight against it. He has spent more hours than anyone would like to count at Yale's cancer center-- with occasional frustration, but always putting one foot in front of the other without fail. In February he made the difficult decision to stop treatment as the benefit was no longer outweighing the harm. This didn't slow him down, though, as he and his wife Susan took the opportunity to visit Peter, Callista and the kids in Seattle in March and Jeff, Bri, and kids in England in April. The last few weeks have been difficult.
May he be blessed by all who knew him.
---
From Merle Applebaum Waxman
Dear Class,
I was waiting to write until I received the notice from Yale with the notice going out to the community. We are all very sad about this passing. I saw Richard and Susan just a few weeks ago, they were visiting a mutual friend who was in the hospital. Richard and I met in 2nd grade. He was always dear and caring and kind. We both had the good fortune to attend college in the same city and then again to reconnect when we moved to New Haven 32 years ago. To say he was beloved and well respected by the Yale community is an understatement.
I am also including below the obituary from today's New Haven Register
Please, take good care of yourselves and your loved ones
Merle
NOTE: Scroll down below the obituary notice for messages of condolence.
To the Yale School of Medicine Community,
We write to inform you of the sad passing of Professor Richard Ehrenkranz, MD, a long-time faculty member in the Department of Pediatrics, a visionary leader and gracious mentor to many.
We have included below a brief biography, prepared by Mark Mercurio, MD, professor of pediatrics and chief of Neonatal Perinatal Medicine, honoring the life of Rich and the many contributions he made to Yale and to the field of neonatal perinatal medicine.
Please join us in extending deepest sympathy to his family on behalf of the school.
Sincerely,
Robert J. Alpern, MD
Dean and Ensign Professor of Medicine
Clifford W. Bogue, MD
Chair and Professor, Department of Pediatrics
~ ~ ~ ~ ~ ~ ~ ~ ~ ~ ~ ~ ~ ~
Richard A. Ehrenkranz, MD
July 28, 1946 – August 8, 2018
It is with great sadness that I report the passing of our colleague and friend Richard Ehrenkranz, MD, professor of pediatrics, obstetrics & gynecology. Rich died from cancer on August 8, 2018. He was an integral part of the Yale pediatric community for four decades. Rich was originally from New Jersey and came to Yale as an intern in 1972, after completing his undergraduate work at MIT and receiving his medical degree from SUNY-Downstate. He completed pediatrics residency at Yale, and his postdoctoral fellowship at Yale and NIH. He joined the Pediatrics faculty in 1979, and remained here until the time of his death, contributing to the operation and leadership of the Division of Neonatal-Perinatal Medicine until shortly before his passing. He was the clinical director of the Newborn Intensive Care Unit from 1982-2012, interim chief of the Division of Neonatology from 2012 to 2015, and director of research for the Division of Neonatology until July of this year.
Dr. Ehrenkranz was best known at Yale as an extraordinary mentor to students, residents, and fellows for four decades, and as the leader of the clinical operation of one of the nation's premier Newborn Intensive Care Units. Generations of pediatricians, neonatologists, nurses, physician associates, nurse practitioners, and others learned their craft by having the great fortune to work alongside Dr Ehrenkranz. Thousands of newborns from throughout Connecticut and beyond benefited from his extraordinary clinical skills, and thousands more parents will remember his gentle way of helping them though times of crisis. He is also known and respected internationally as a clinical investigator, with over 300 publications, whose contributions to the field of infant nutrition and other aspects of neonatology had, and continue to have, significant impact on medical practice. He was a generous mentor and collaborator for many colleagues in academic neonatology.
Rich will be remembered for his excellent clinical skills as a pediatrician, his kindness to the families of his patients, his leadership of the Newborn ICU, his impressive contributions to medical science, and for the countless physicians who were lucky enough to learn from him over the years and carried his teaching around the country and beyond. Perhaps most of all, he will be remembered as someone who made his living in a very intense setting, and yet throughout it all always managed to convey a gentle kindness and generosity of spirit. He leaves behind his beloved wife Susan, 2 sons, and 3 stepsons. We extend our sincere sympathy to them, and our gratitude for having had the honor and pleasure of working with him.
The family has informed us that a memorial service is being held on Sunday, August 19 at 1:30 pm at Battell Chapel at Yale University.
NEW HAVEN REGISTER - Obituary Notice
Richard A. Ehrenkranz, MD, 72, of Hamden, CT, died peacefully at Connecticut Hospice on August 8, 2018 from complications related to metastatic rectal cancer. He was surrounded by his family and close friends throughout the final stages of his illness. Dr. Ehrenkranz was a neonatologist and an international leader in the field of infant nutrition and clinical research. He spent his 42-year academic and clinical career at Yale University School of Medicine. He is remembered as a generous colleague who had a remarkable ability to present complex topics in a clear and memorable way. As news of his advancing illness spread, he received countless emails from mentees, students and peers thanking him for being an inspirational leader who was always willing to share his time and knowledge.
Dr Ehrenkranz also shone clinically. His patients and their families benefitted from holistic and compassionate care that led many of them to stay in contact with him year after year. In the week before his death, he received an email from a patient thanking him for saving his life in 1979. Despite having seen more than 20,000 patients over the course of his career, Dr. Ehrenkranz remembered both the patient's name and diagnosis without hesitation. "My patients have given so much to me," he said.
Dr. Ehrenkranz was born July 28, 1946 in Newark, NJ, to Robert and Miriam Ehrenkranz. He grew up in West Orange, NJ and, after graduating West Orange Mountain High School in 1964, he attended Massachusetts Institute of Technology, Cambridge, MA (1964-1968). He then received his MD from Downstate Medical Center, State University of New York (1968-1972). Following medical school, he trained in pediatrics at Yale-New Haven Medical Center, New Haven, CT (1972-1974) and then spent 2 years at the Pregnancy Research Center, National Institute of Child Health and Human Development, National Institute of Health, Bethesda, MD.
Dr. Ehrenkranz returned to New Haven, CT in July 1976 and performed a Neonatology Fellowship in the Department of Pediatrics, Yale University School of Medicine from 1976-1978. He joined the faculty of Yale Medical School in July 1978, was promoted to Professor of Pediatrics in 1988, and remained an active member of the Department until June 2018. He directed Yale's School of Medicine Neonatal Intensive Care Unit's (NICU) Clinical Research Program and was the NICU's Clinical Director (1982-2004) and Medical Director (2004-2012). He was the Interim Director of the NICU, Yale-New Haven Hospital from 2012-2015.
Dr. Ehrenkranz continued to live his life fully after his diagnosis in 2010, inspiring others with his courage and dignity until the end. He is preceded in his death by his parents, Robert and Miriam. He is survived by his beloved wife Susan, whom he married in 2000 and with whom he built a wonderful life full of family, friends, gardening, travel, and dinner parties. He is also survived by his sister Cheryl and her partner Stuart Motew; his sons and their families: Jeff and Brianne and their children Seamus and Rory; Peter and Callista and their children Aviva and Franklin; and his step-sons and their wives: Thomas Cohn III, Nicholas Cohn and Benvy Caldwell, and Andrew Cohn and Jennifer Tierney.
To celebrate Richard's life, a memorial service will be held at Yale University's Battell Chapel, 400 College St, New Haven, CT at 1:30 p.m. on Sunday, August 19, 2018.
In lieu of flowers, please make contributions to: Department of Pediatrics, Section of Neonatal-Perinatal Medicine, 333 Cedar Street/PO Box 208064, New Haven, CT 06520-8064, or Connecticut Hospice, Inc, 100 Double Beach Road, Branford, CT 06405. To sign the online guestbook please visit hawleylincolnmemorial.com.
Published in The New Haven Register from Aug. 10 to Aug. 15, 2018