West Orange Mountain High School
Class of 1964
second post on November 25, 2020
4-minute video history of the Macy's day parade https://www.youtube.com/watch?v=G20mdkNhwb0
~~~~~~~~~~~~~~~~~~~~~~~~~~
first post on November 25, 2020
There are a number of explanations for the origin of the name of Thanksgiving's favorite dinner guest. Some believe Christopher Columbus thought that the land he discovered was connected to India, and believed the bird he discovered (the turkey) was a type of peacock. He therefore called it 'tuka,' which is 'peacock' in Tamil, an Indian language.
Though the turkey is actually a type of pheasant, one can't blame the explorer for trying.
The Native American name for turkey is 'firkee'; some say this is how turkeys got their name. Simple facts, however, sometimes produce the best answers—when a turkey is scared, it makes a "turk, turk, turk" noise.
~~~~~~~~~~~~~~~~~~~~~~~~~~
third post on November 24, 2020
Click here for Rich Galen's Thanksgiving Day mullings.com story. Always gives me a good feeling reading it.
~~~~~~~~~~~~~~~~~~~~~~
second post on November 24, 2020
Reports of turkeys as gifts to American presidents can be traced to the 1870s, when Rhode Island poultry dealer Horace Vose began his 35-year practice of sending well-fed birds to the White House.
The origins of the turkey pardon are rumored to have begun with Abraham Lincoln: In 1863, he spared a Christmas turkey, which his son Tad had named Jack and turned into a pet.
A full century later, President Kennedy returned a Thanksgiving turkey to the California farm where it was raised, reportedly saying, with a grin, "We'll just let this one grow."
Starting around the Nixon administration, presidents began sending their birds to a nearby petting zoo after a receiving ceremony.
During the throes of the Iran-Contra scandal in 1987, President Reagan sidestepped reporters' questions about whether he planned to pardon any of his aides accused of wrongdoing. When asked about the of the 55-pound turkey he was just given, the President joked, "I'll pardon him."
But it wasn't until 1989 when the first turkey was officially pardoned. With animal rights activists picketing nearby, President George H.W. Bush quipped "Reprieve," "keep him going," or "pardon": it's all the same for the turkey, as long as he doesn't end up on the president's holiday table.
Although the National Thanksgiving Turkey and its alternate (sent in case the primary turkey can't fulfill its duties—mainly, staying alive to make it to the presentation ceremony) now receive stays of execution, their remaining days do not last too long. The skeletons and organs of turkeys bred for consumption are incapable of supporting extreme weights, and most of the reprieved turkeys die prematurely within the following year.
For many years, the freed turkeys spent their remaining months at Frying Pan Farm Park in Herndon, Virginia (a short drive for Rich Galen, Art Rubin and Mark Gersh). Between 2005 and 2009, they were sent to Disneyland and Walt Disney World where they served as grand marshals in the theme parks' annual Thanksgiving parades. From 2010 to 2013, the turkeys made the short trip from the White House to Washington's Mount Vernon estate, and this year they will be transferred to Turkey Hill Farm at Morven Park in Leesburg, Virginia, to live out their last days as free birds.
~~~~~~~~~~~~~~~~~~~~~~~~~~~~~~~~~~~~~~~~~~~~~~~
first post on November 24, 2020
Late November 1953, Swanson & Sons had overstocked on turkey meat and Thanksgiving had already passed. The company's founders asked their employees what to do with the excess fowl. One sales rep traveled to the kitchens of Pan American as the airlines was testing single-compartment foil trays to serve warm in-flight meals to passengers. The rep borrowed one of Pan Am's trays and designed a three-compartment version to keep peas and gravy from touching. The sales rep also helped devise a marketing strategy that focused on the new American obsession with television, so no one would notice the meals were simply leftover Thanksgiving foods in a futuristic-looking box. And within a year, the company had sold 10 million TV dinners.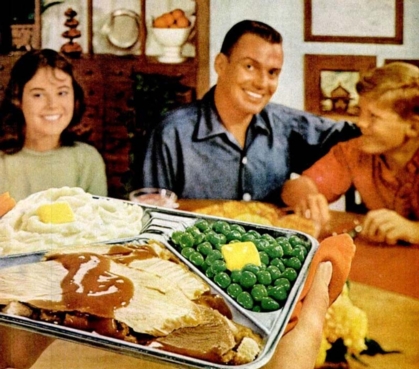 ********************************************
posted August 31, 2020
A Reunion During a Pandemic? Back in May, we realized the bad times called for a good thing. So, a few of us began to plan a "Senior" Prom for our classmates. On zoom!
Eager to enjoy the party, thirty-seven adventurous guests (9 of them "dates") began signing on 45 minutes before the official start time. The talking and laughing were nonstop.
At 8:00, after a brief welcome and overview, DJ Gatsby began spinning the music we grew up with, a repertoire curated by a classmate who had been in the music business for many years. And several weeks before the event, celebrity makeup artist and clean beauty expert, Katey Denno, uploaded a video on tips to look your best on Zoom.
Adding to the fun was a slideshow of photos from our school years that brought back wonderful memories.
Another key part of the event included several small-group chats where the topics "catching up," "hobbies," "bucket lists," and "family, kids/grandkids," kick-started the conversation.
Closing time, 10:00, came sooner than anyone expected. Several prom-goers stayed on for more talk.
Here are some simulated screen shots to give you a flavor, a sense, an idea, of the evening and that a "virtual" party is both possible and enjoyable.